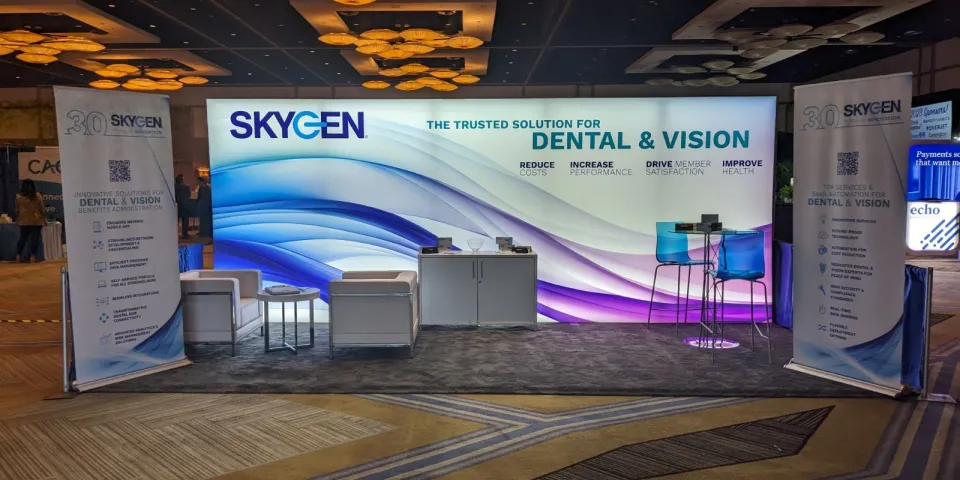 From the opening night reception to the closing breakfast and every moment in between, we had a great time at NADP's CONVERGE 2023. This annual event brings together dental benefit industry leaders and decision-makers from across the nation, and while we were busy, we really enjoyed connecting with everyone face to face.
Some of the highlights for our SKYGEN team:
During the How Payers Can "Win" in the Government Space Employing Digital Strategies panel with Josh Filo, SKYGEN Director of Business Development, a question from attendees led to a discussion on how best to serve Medicaid enrollees who are the least connected digitally and geographically. Panelists agreed the solution is partnering with community organizations, like SKYGEN does with TeamSmile, to reach this underserved segment of the Medicaid population.
Tempura shrimp skewers at the networking party on The Deck at Moonshine Flats – what a fun hangout spot! More than 120 attendees joined SKYGEN for great food, drinks, and games including giant beer pong, corn hole, pool, and old school arcade games including Pac-Man big-screen style. 
Seeing visitors to our double booth relax under the care of two massage therapists who provided back and neck massages on-demand.
As the Premier Sponsor for NADP CONVERGE 2023, we had the pleasure of hosting the Opening Night reception outdoors in beautiful San Diego. The wind may have taken our signs for a ride, but everyone loved the photo booth and light-up wine glasses. Afterwards, many, many people ended up continuing the conversation back at the hotel bar. 
A big thank you goes to everyone who stopped by the Discovery Zone to learn about SKYGEN's answer to connecting with dental stakeholders. Product Manager Christine Tremblay presented advantages you may not have thought of for using portals as a means of driving digital strategy and engaging dental stakeholders.
We'd also like to send a special thank you to NADP CONVERGE 2023 organizers, including Jeremy May, Shayne Leatherwood, and Lauren Oakley, for another enlightening and seamless event. You are fantastic partners, and we're excited about continuing our support going forward. Can't wait for NADP CONVERGE 2024!