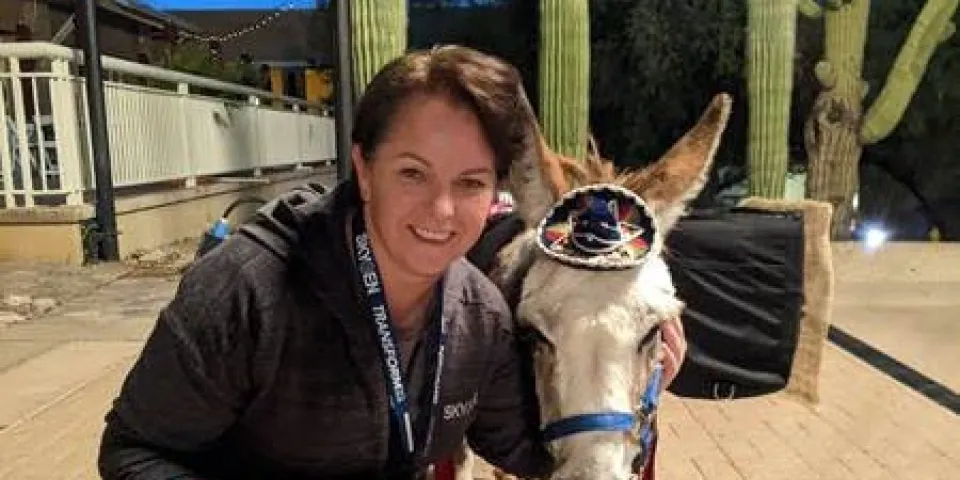 In April 2020, just as the pandemic shutdown was rolling across the country, Holly Carter took a chance on her first remote job. "Layoffs were happening at the company I worked for," says Holly, SKYGEN's Director of Product Marketing. "I applied to SKYGEN because I have a background in SaaS healthcare technology. When I met Mark Cranston and others on the marketing team virtually, our personalities clicked. With SKYGEN being a midsized healthcare company, it felt like the right fit for me."  
"This was my first time working from home," she adds. "At my last employer I had good relationships and friends at work. I worried that with a remote position, I'd miss the daily in-person interactions, but since joining SKYGEN I've never felt alone or without support. Mark is very good at relationship building, so by the time I first came to Milwaukee, I already knew everyone on our team. It felt comfortable."
As Director of Product Marketing, Holly works to make SKYGEN's value clear to potential new customers as well as current clients. It's a blend of creativity, analysis and innovation she enjoys. She works closely with other SKYGEN teams, including technical, support, client experience and sales. Holly is also the creator and host of the SKYGEN Café, a monthly 30-minute coffee break webinar that gives SKYGEN experts a chance to share insights on interesting specialty benefit topics. View the latest SKYGEN Café. 
Based in a small town in south-central New Jersey, Holly travels with the SKYGEN sales team to events, and comes to Milwaukee quarterly. "I can definitely say that Midwest charm is real," says Holly. "I was surprised by the extent of the German influence in Milwaukee - in New Jersey, it's all Italian and Irish culture. I'm a big fan of Fonzie from Happy Days, so getting to see the Bronze Fonz was great."
"My favorite part about working at SKYGEN is the people," she adds. "It's a very collaborative environment, and you're encouraged to put your ideas out there. Working with executives above you is never an obstacle like I've experienced at other companies. We support each other and I think we're a great team."