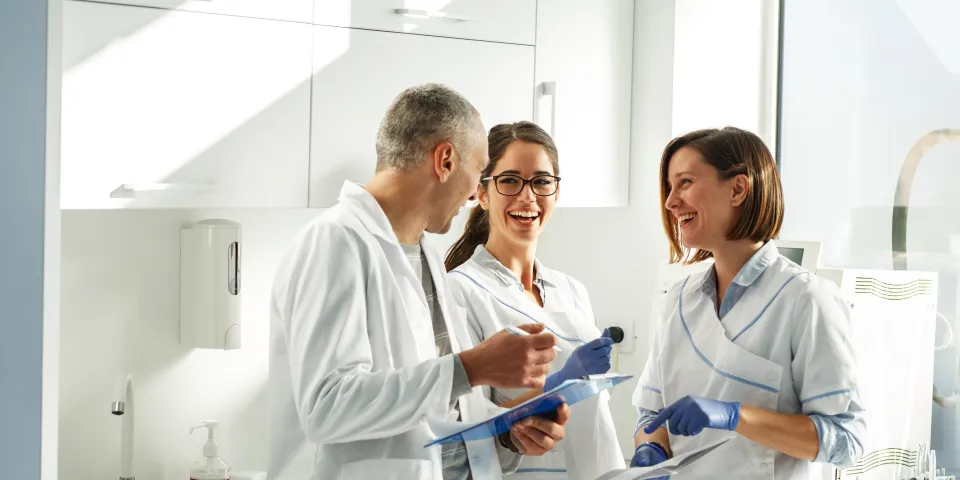 It's Small Business Week 2023, a time to recognize the vital role America's entrepreneurs and small business owners have in our everyday lives. Dental practices fit that bill – 50% of dentists work solo, according to Health Policy Institute. Many more have just two or three partners, and all of them employ staffs of hygienists, administrators and more. Here at SKYGEN, we're celebrating the strong relationships we enjoy with thousands of dentists in all 50 states and Washington, D.C. 
For some insights into the hard work of running a dental practice, we asked Dental Insurance Coach Collen Huff, FAADOM, about the top-of-mind challenges her clients are grappling with as they work to provide quality dental care and improve the oral health of their patients.  
Q: Are dental practices still feeling perhaps unexpected business impacts due to the pandemic shutdowns?
Ms. Huff: Absolutely. They're still dealing with challenges that arose as soon as the economic shutdowns began, such as the shortage of hygienists and other staff, and patients' concerns about coming into the office. One of the unexpected challenges is that many patients learned to live on one income during the pandemic. That belt-tightening, coupled with fears of a possible recession, has kept patient numbers down.
The positive news is that the tide is turning. There's been more in the news about the strong link between oral health and overall health. I think healthcare professionals and patients are more mindful of this link now. It can only help to get more patients in for preventive care.
Q: What's the biggest concern right now related to administrative staff?
Ms. Huff: Short term I think it's finding and retaining staff who excel in customer service. Longer term, the larger concern is finding ways to train administrative staff well, so they are not only great at what they do, but have confidence in themselves and enjoy their work. 
Business management of dental practices has become much more complex in the last twenty years. There are very few sources for dental admin training, so most of it happens on the job. More dental practices are recognizing how important it is to invest in training their administrative team in order to keep the practice running smoothly and to retain good employees. 
Q: How are dental practices coping with the possibility of a recession?
Ms. Huff: The economy is always a concern for small businesses, including dental practices. When money is tight, dental patients put off elective procedures, and in some cases, procedures that they really need to have done. Some providers are going out of network, especially in cases where insurers haven't raised their fee schedules, to cover the costs of seeing patients. Others are supplementing their core dental offering with services like teeth whitening and straightening. 
One recommendation I make regardless of the economy is for dental practices to take advantage of the opportunity to have electronic relationships with insurers. Being able to handle business online like submitting electronic claims and authorizations, getting remittance advice reports, and verifying patient eligibility helps practices streamline and reduce administrative work. Transitioning to electronic payments is another good step. It allows practices to get faster, more secure direct deposits, which helps them better manage their revenue cycle.
Every small business has had to adjust in the last three years to stay afloat. Overall, my sense is that dental practices are successful in finding ways to adjust while maintaining their commitment to quality care.