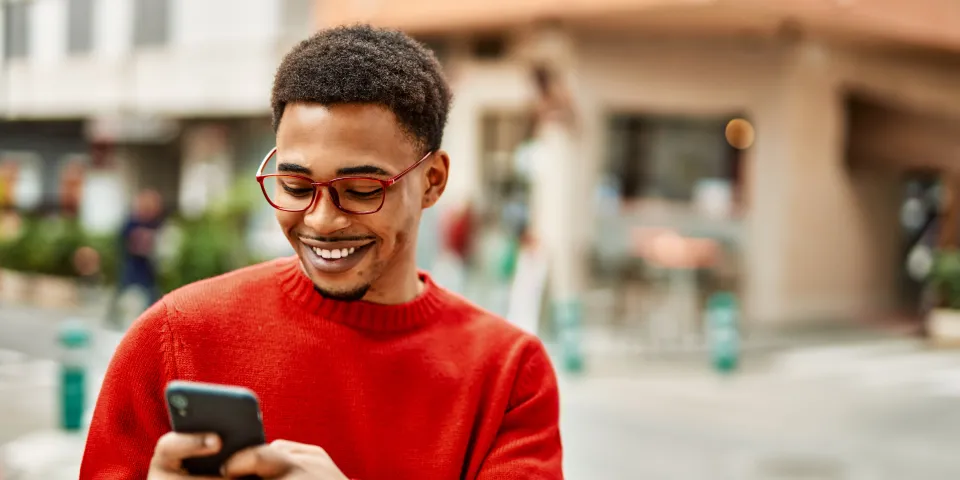 Insurers that offer stand-alone vision plans are meeting consumers where they are, and that is online. About 36.5 million adults in the U.S. have individual vision insurance. Considering that less than 6 in 10 U.S. adults have vision insurance – through their employer or an individual plan – there's opportunity for insurers to grow their vision business.1 And, with the steady upward trend of eyewear purchases made online, consumers continue to be clear about their preferences for digital experiences.  
SKYGEN Member Mobile App for Vision: Simplicity + Functionality
SKYGEN's new Vision Mobile App enables consumers to easily manage their benefits online, including eyewear purchases. Vision payers and Managed Care Organizations (MCOs) offering the app to members drive digital engagement and better member experiences by improving member access to vision care and benefits information.
Key features of SKYGEN's Member Mobile App for Vision include: 
Real-time prescription access directly from the app, simplifying online ordering of glasses and contact lenses
Simplified vision claims with convenient access to authorizations and EOBs
Find-A-Provider for easily locating providers by location, zip code or other criteria
Submission of receipts for reimbursement on out of network claims
Head of household registration with one login for managing the entire family 
The self-service format and easy-to-understand language make it simple and convenient for members to use their vision benefits plan. The app is available for both Apple iOS and Android.
Helping Payers Stay Competitive in Vision Benefits
With the SKYGEN Member Mobile App for Vision, insurers put members at the center of their healthcare experience through fast, simple digital interactions. Insurers gain tools to increase member engagement and benefits utilization such as personalized push notifications, text messages and custom surveys. They're meeting members' expectations for personalized experiences, too.  
As mobile connectivity grows in healthcare, vision insurers and MCOs need digital tools to engage members and attract a larger market share. SKYGEN's Member Mobile App for Vision helps payers deliver the modern, technology-driven experiences members are looking for.