A pair of polarized sunglasses is as important as sunscreen when it comes to protecting yourself from the sun's ultraviolet rays (UV). Now, more people in Tanzania will be able to slip on some shades with help from the SKYGEN International Foundation. The Foundation recently received 2,200 pairs of sunglasses through Vision for Life™, Essilor's social impact fund. The Foundation will distribute the sunglasses at its mobile eye clinics. People who come to the clinic can select from multiple sunglass designs. 
"Since we started our eye clinics in Tanzania in 2018, we've seen people whose vision issues are related more to the strong sun than a need for prescription glasses," says Lisa Sweeney, SKYGEN International Foundation Executive Director. "The need for sunglasses there is immense, and through our strong partnership with Essilor, we've been able to offer sunglasses as well as prescription eyeglasses. The additional 2,200 pairs gifted by Vision for Life will be greatly appreciated."
The UV Index and Eye Safety
The UV Index (UVI) is a measurement used internationally to indicate the intensity of the sun's UV rays and risk of overexposure. Overexposure can lead to skin cancer as well as cornea damage, cataracts, even vision loss. The UVI scale ranges from below 2 for low exposure to 11+ for extreme exposure. Higher values indicate greater potential for damage to skin and eyes.
Location has a large impact on UVI levels. For instance, in equatorial countries like Tanzania exposure is higher since less of the sun's rays are absorbed by the Earth's atmosphere. Altitude above sea level also makes a difference. Dar es Salaam, the largest city in Tanzania, is 200 feet above sea level, and has an average maximum UVI of 7 in the highest UV months. In contrast, the Serengeti National Park at nearly 5,000 feet above sea level has an average maximum UVI of 12 in the highest UV months. In the U.S, portions of New Mexico, Colorado and California also have average UVI highs of 12 to 13, in July.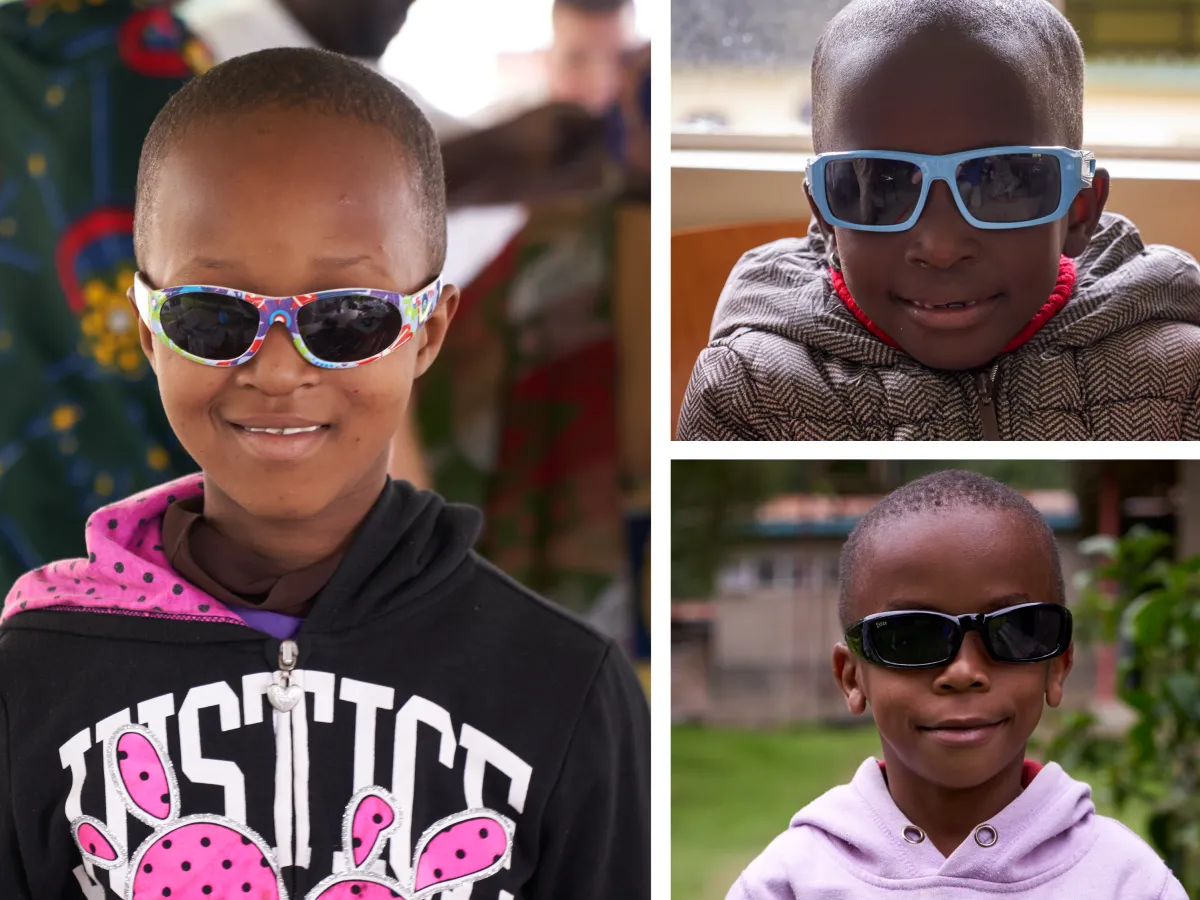 Vision Care in Tanzania
Vision care isn't widely available in Tanzania, where there is one optometrist for every 250,000 people. The SKYGEN International Foundation's charter project began offering eye testing and prescription glasses through a mobile clinic in the Arusha region. Essilor has been a valued partner from the beginning. The mobile clinic provides eye health education and distributes sunglasses as well. In the first three years of the project, the Foundation has provided 178,500 vision tests to people of all ages and 35,781 pairs of glasses at no charge. 
Vision impacts quality of life for people worldwide. The lack of prescription glasses when needed prevents children from seeing school blackboards, and adults from working at their jobs safely and efficiently. Important daily routines, from homework to home chores to participating in religious services, are made more difficult. With support from SKYGEN International Foundation and Essilor, more Tanzanians can protect their eyes from harmful UV rays, and see the best things in life more clearly.