We're starting 2022 off strong with a new series that highlights how the digital journey is changing for dental payers, providers and dental plan members. Digital transformation continues to sweep across healthcare. For the dental market, transformation is happening in waves. As a trusted, transformative partner to the most efficient dental plans in the nation, SKYGEN is keeping you ahead of the digital curve in dental benefits administration and exceptional experiences. In this series, we'll explain how the technology-enabled dental journey continues to evolve to provide more value for all dental stakeholders.  
Find-A-Provider 1.0
Find-A-Provider is a great example of an essential feature for dental plan members that is improving dental experiences as the technology advances. Find-A-Provider is often simply an alphabetized list of dental provider participating in the plan that is searchable by zip code, allowing members to see providers in close proximity. Over time, some have been enhanced to allow members to search using additional criteria, such as type of dental provider or dental service needed, and search on a mobile device that connects to geographic mapping. 
While Find-A-Provider 1.0 is helpful, there are some issues:
75% of patients never scroll past the first page of search results
18% of patients simply choose the provider ranked first in search results
Dental plan members are finding a provider, but are they finding the best provider for them – the one that is more likely to meet their needs and create patient satisfaction? In addition, should high-quality providers be missed solely because their name is closer to Z than A?  
SKYGEN Transforms Find-A-Provider
Seeing an opportunity to improve this critical dental plan feature, SKYGEN developed Enhanced Find-A-Provider. Unlike traditional location-based tools, this smart tool uses proximity and provider ratings to direct members to nearby providers that offer the most appropriate and efficient dental care. It includes configurable travel tolerances by market so that travel is appropriate for specific geographic or metropolitan areas. Enhanced Find-A-Provider is:
Good for payers – Dental plans gain significant cost of care savings by shifting members to locations with the optimum blend of ratings and travel distance. Potential cost of care savings could be as high as $.29 PMPM when health plans shift 10% of their members to higher-performing providers.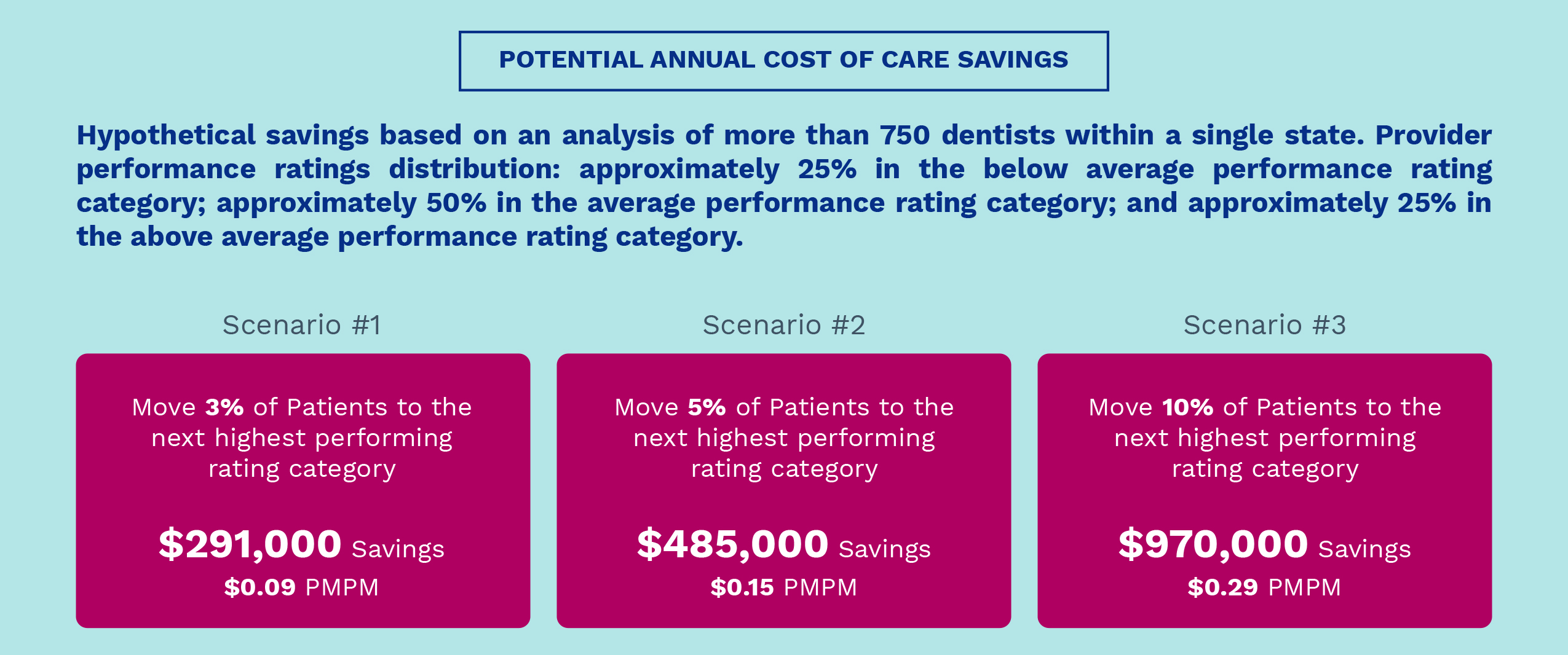 Good for providers – Providers that are high-performing gain a powerful marketing tool and can realize better ROI on their investment in an efficient, quality patient experience. Enhanced Find-A-Provider search results can be randomized to avoid overwhelming a particular provider location or locations.
Good for members – Members are referred to nearby providers that are recognized as providing high quality, appropriate and effective care at lower costs. When members are satisfied with their dental care and its cost, they are likely to stay with that provider and take advantage of preventive care, which can improve oral health outcomes. 
Payers can make this smart tool available to members via patient portal, on the SKYGEN Member Mobile App, or both. By replacing old-school provider search features with Enhanced Find-A-Provider, payers create a win across the board.
Enhanced Find-A-Provider is one of three SKYGEN Provider Select solutions that is available individually or as the Provider Select Suite. If you have questions about Enhanced Find-A-Provider's smart technology or would like to take it for a test drive, contact us today!
Get the latest insights delivered right to your inbox. Subscribe to the SKYGEN blog today.