If moving the needle on member satisfaction is your priority in the coming year, think about offering your members a mobile app. A mobile app may seem too simple of a solution for the complex challenge of consumer satisfaction. However, the right technology is worth your investment because it meets not one but many of the simple needs members have in using their dental benefits. An app with a purposeful array of features supports easy, fast access to care, better utilization, improved health literacy – all in all a more satisfying member experience.  
WHAT IS A MEMBER MOBILE APP? 
SKYGEN's Member Mobile App offers tools members can use on their mobile phones to manage their dental benefits all in one place. Consumers are using online and dental mobile apps, according to NADP's 2021 Consumer Survey. SKYGEN's Mobile App offers nearly all of the ten most popular features, including finding a provider, reviewing EOBs, accessing an ID card, and reading articles about oral health. Payers can use it to push automated and configurable messaging directly to members, such as reminders to set up a dental home, or visit reminders to members that have diabetes.
For more on specific features, download SKYGEN's industry analysis on Mobile App for Commercial and Mobile App for Medicaid. 
 
5 PAIN POINTS SOLVED WITH SKYGEN'S MEMBER MOBILE APP
SKYGEN's Mobile App can help you take member satisfaction to new levels and improve plan operation by solving the toughest challenges in dental benefit management: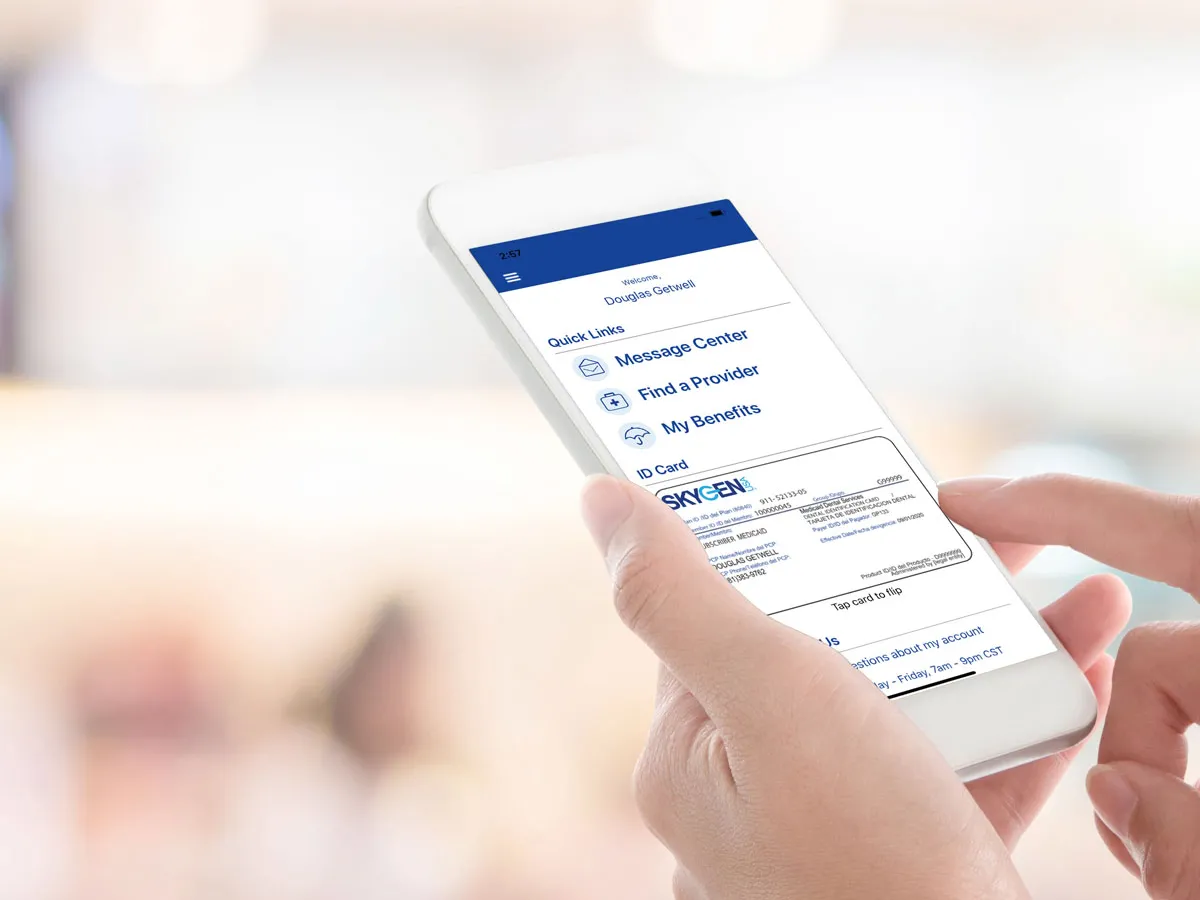 1. Transform the member experience. The app puts control in members' hands with personal, portable and convenient interactions. They have everything they need to locate a provider nearby, schedule an appointment, present their ID card, understand their dental benefit coverage, track use of their benefits over the year, and review their provider. The mobile app simplifies dental benefit management for members of Medicaid, Medicare Advantage and commercial plans. According to 2018 -2020 NCQA RATINGS, providing instant access to available primary providers and using post-visit surveys to identify and recognize higher quality providers are strategies that can lead to increased member satisfaction and improved HEDIS® scores. 
2. Increase member engagement. Payers can effectively reach members with EOBs, cleaning reminders, oral health education, and other information that helps remove the barriers of limited health and information literacy. There's no need for members to login to a separate website, or wait weeks for documents to arrive in the mail. The app also eliminates language barriers by presenting all screens in Spanish when the member's phone is set to Spanish language. 
3. Drive better oral health. By improving access to care with technology members already use in their everyday lives, payers can support better oral health as well as members' satisfaction with their oral health. A member mobile app can also reduce complex cases by increasing use of preventive services through oral health reminders and appointment alerts. 
4. Reduce benefit and administrative costs. A member mobile app can reduce administrative costs by providing members with plan benefits, accumulated expenses and health education information on their phones. According to NADP's 2021 Consumer Survey, the Find-A-Provider tool alone could reduce call center volume by at least 13%.  To reduce benefit costs, payers can use push notifications to increase use of preventive care, and share information about the cost benefits for members when they choose an in-network provider.
5. Win more business. There's no question that a member mobile app sets plans and payers apart in the crowded dental marketplace. In fact, one national MCO client positioned SKYGEN's Mobile App recently to help win one of the largest state carve-outs in the nation. 
We developed the SKYGEN Member Mobile App understanding the value it creates for payers and their members. We designed it with a simple, functional member experience knowing that members of all ages would use it, in multiple languages. Now, an increasing percentage of our clients are using the SKYGEN Member Mobile App to improve their members' experiences and satisfaction. 
Read about SKYGEN's Member Mobile App features for commercial programs and features for Medicaid programs.