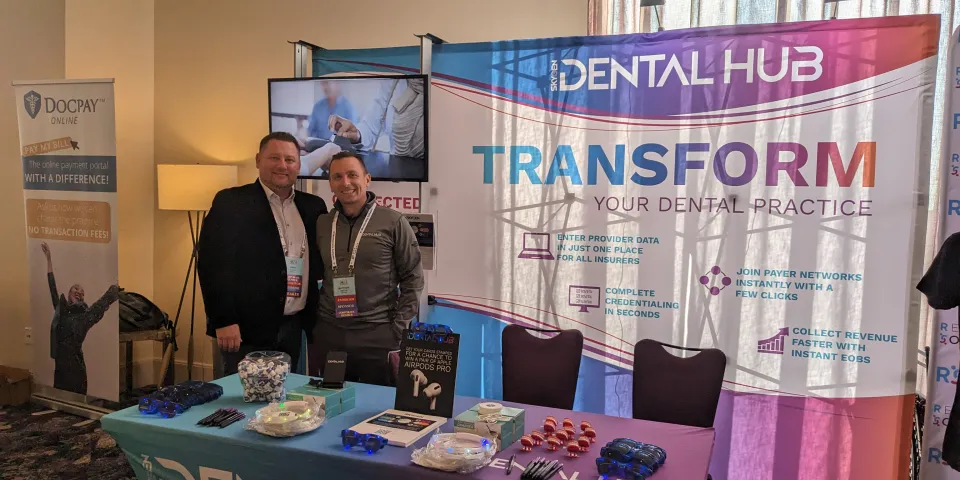 American Association of Dental Office Managers (AADOM) always puts on a great conference experience, and the 2023 event this month exceeded that high bar. We enjoyed talking with smart, friendly and engaged attendees, and saw a lot of smiles when visitors put on the sparkly lighted glasses and necklaces we gave away at our booth.
Our team was at AADOM to talk about the much-anticipated launch of the SKYGEN Dental Hub™, but we admit we couldn't compete with the live animal ambassadors attending with a local rescue organization. Really, who can resist a six-week-old baby sloth, or an adult sloth for that matter? These darlings definitely stole the show!!!
Dental Hub Now Available & Free for Dental Professionals
SKYGEN's Chief Innovation & Growth Officer John Schaak spoke at AADOM 2023 about SKYGEN's fresh approach to doing business in the dental industry. The Dental Hub is like a public square for dental programs, and it replaces the traditional provider portal. It's purpose-built to streamline dental business with tools and services that make day-to-day activities faster and simpler providers and payers. Dental Hub makes it easier for providers to create an exceptional patient experience, too.
AADOM booth visitors were surprised to learn that registering and using the Dental Hub is free for providers, but it makes sense: Dental offices don't pay a fee to use a provider portal now, and the intent of Dental Hub is bringing payers and providers together to improve dental for everyone. Payers who want to improve the provider experience are on board with Dental Hub. Currently more than 40,000 providers and payers are using it.
Benefits for providers include: 
A single, roles-based portal for providers to work with all of their participating payer partners. No more jumping in and out of multiple portals. Each team member has their own credentials and is presented with the information they need to see when they login. No more portal access spreadsheets, and no more problems with one team member changing the password and locking everyone else out.
Simplified provider directory management: Providers enter their practice information one time, and keep it up to date in this single place. Providers no longer have to continuously respond to requests from multiple payers to update the same directory information.
Effortless contracting: The Dental Hub's digital contracting service will allow providers to grow their business with ease by finding and joining new contracts in just a few clicks.
Swift credentialing: The Dental Hub's automated processes will eliminate the hassle of having to give the same credentialing information to multiple payers. It will also shrink the time it takes to become a participating provider.
The Dental Hub helps us come together on a journey towards a better future that includes streamlined processes, enhanced interactions, and overall better healthcare. As we mentioned at AADOM 2023, dental professionals can now register for the Dental Hub (at no charge) and start using it. We also offer a free weekly Dental Hub virtual walkthrough on Thursdays at 1pm CST. Register for a Dental Hub virtual walkthrough.
Our thanks to the AADOM 2023 Conference team for a great experience, and we also thank everyone who stopped by our booth to chat. Good to see all of you!